Welcome to Word After Word Books!
For Freedom: The Story of a French Spy (Mass Market)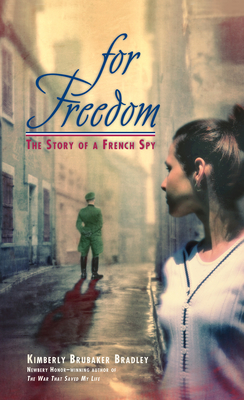 $8.99

OUT OF STOCK - Available to order
Description
---
From the Newbery Honor and Schneider Award-winning author of The War that Saved My Life comes For Freedom, the thrilling true story of one of France's youngest spies during World War II and perfect for fans of Code Name Verity and The Diary of Anne Frank.

    Suzanne David's everyday life is suddenly shattered in 1940 when a bomb drops on the main square of her hometown, the city of Cherbourg, France, killing a pregnant neighbor right in front of her. Until then the war had seemed far away, not something that would touch her or her teenage friends. Now Suzanne's family is kicked out onto the street as German soldiers take over their house as a barracks.
    Suzanne clings to the one thing she really loves--singing. Her voice is so amazing that she is training to become an opera singer. As Suzanne travels around for rehearsals, cosume fittings, or lessons, she learns more about what the Nazis are doing and about the people who are "disappearing." Her travels are noticed by someone else, an organizer of the French Resistance. Soon Suzanne is a secret courier, a spy fighting for France and risking her own life for freedom.

[STAR] "This taut, engrossing World War II novel instantly immerses readers,...[but] the real focus, however, is the skin-crawling suspense story about one of France's youngest spies. Each chapter brings new intrigue and often shocking revelations...resonat[ing] with authenticity, excitement, and heart."-Booklist, Starred

[STAR] "This suspenseful novel,...based on a true story, moves swiftly into action...Filled, but not laden, with the events of the war, and peppered with French language and the culture of music, this novel will appeal to readers who enjoy history and espionage."-SLJ, Starred

[STAR] "Based on Bradley's interviews with the real Suzanne, this is an exciting account of a girl's coming of age in a scary time. The historical context is neatly woven into the story."-Kirkus Reviews, Starred

"The action will have readers on the edge through the tense conclusion, and the epilogue is not to be missed."-The Bulletin

"A highly compelling look at the covert battle for freedom."-Publishers Weekly

An IRA Teachers' Choice
An ALA Amelia Bloomer Selection
A VOYA Top Shelf Fiction Selection
A New York Public Library Book Pick
A Bank Street College Best Book of the Year
About the Author
---
Kimberly Brubaker Bradley is the Newbery Honor and Schneider Award-winning author of several novels, including Ruthie's Gift, One-of-a-Kind Mallie, Weaver's Daughter, Halfway to the Sky, and For Freedom: The Story of a French Spy. Bradley and her husband have two children and they live on a farm in eastern Tennesse, in the foothills of the Appalachian Mountains.
Praise For…
---
[STAR] "This taut, engrossing World War II novel instantly immerses readers,...[but] the real focus, however, is the skin-crawling suspense story about one of France's youngest spies. Each chapter brings new intrigue and often shocking revelations...resonat[ing] with authenticity, excitement, and heart."-Booklist, Starred

[STAR] "This suspenseful novel,...based on a true story, moves swiftly into action...Filled, but not laden, with the events of the war, and peppered with French language and the culture of music, this novel will appeal to readers who enjoy history and espionage."-SLJ

[STAR] "Based on Bradley's interviews with the real Suzanne, this is an exciting account of a girl's coming of age in a scary time. The historical context is neatly woven into the story."-Kirkus Reviews, Starred

"The action will have readers on the edge through the tense conclusion, and the epilogue is not to be missed."-The Bulletin

"A highly compelling look at the covert battle for freedom."-Publishers Weekly

An IRA Teachers' Choice
An ALA Amelia Bloomer Selection
A VOYA Top Shelf Fiction Selection
A New York Public Library Book Pick
A Bank Street College Best Book of the Year