Welcome to Word After Word Books!
Creepy Creatures: A Graphic Novel (Goosebumps Graphix #1) (Paperback)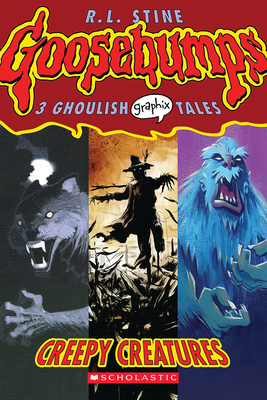 $9.99

On Our Shelves Now - Holiday Shipping Not Guaranteed
Other Books in Series
This is book number 1 in the Goosebumps Graphix series.
Description
---
Three of Goosebumps' creepiest creature books ever!*Now in a cool, new GB Graphix anthology adapted and illustrated by acclaimed comic artists Scott Morse, Greg Ruth, and Gabriel Hernandez.Creepy creatures are howling, growling, and stalking through the artwork of the first Goosebumps Graphix anthology when three hot, talented comic artists adapt these bestselling Goosebumps books into a cool, new graphic novel format:SCOTT MORSE, creator of the popular comic, "The Magic Pickle," brings his quirky sense of humor and madcap illustrations to "The Abominable Snowman of Pasadena," where two kids encounter an unlikely monster in sunny California.
About the Author
---
R.L. Stine is the creator of the bestselling Goosebumps series, which has more than 400 million copies in print worldwide and celebrated 25 years in 2017. Goosebumps is one of the bestselling children's series of all-time and inspired a popular television show, as well as a feature film starring Jack Black that opened at #1 at the box office. His other popular children's books include the series Fear Street, Mostly Ghostly, The Nightmare Room, and Rotten School, and his picture books, with Marc Brown, The Little Shop of Monsters and Mary McScary. R.L. Stine lives in New York City. You can connect with him on Twitter at @RL_Stine or Facebook: facebook.com/rlstine. For more information, visit rlstine.com and scholastic.com/goosebumps.
Scott Morse is the award-winning author of Dugout: The Zombie Steals Home as well as the creator of The Magic Pickle Graphic Novel and the Magic Pickle chapter book series with Graphix. He's currently a Story Supervisor at Pixar, where he has worked on Ratatouille, Wall*E, and the Cars franchise. He has also worked for Cartoon Network, Disney, and Nickelodeon. Scott lives with his loving family in Northern California.
Greg Ruth has written and drawn stories for Dark Horse Comics, DC/Vertigo Comics, Fantagraphics, and the New York Times. He is also the illustrator of Our Enduring Spirit, a picture book edition of President Barack Obama's first inaugural address, and the creator of the graphic novel The Lost Boy. Greg lives and works in western Massachusetts. Visit his website at gregthings.com.
Praise For…
---
SLJGr 5 Up-These selections from the "Goosebumps" series have been abridged and put in a graphic-novel format, and the fast pace and horror elements make them perfect for this format. The black-and-white illustrations for each one are very different but fit each story well. In "The Werewolf of Fever Swamp," the artwork bristles much like the hackles on a werewolf's neck. The smooth, realistic style of "The Scarecrow Walks at Midnight" makes the scarecrow chilling and haunting. The bolder, cartoon style of "The Abominable Snowman of Pasadena" perfectly fits this more humorous tale. This is a great option for younger readers interested in graphic novels, and the nostalgia is there for the older set.-Melissa T. Jenvey, New York Public Library

SLJGr 5 Up-These selections from the "Goosebumps" series have been abridged and put in a graphic-novel format, and the fast pace and horror elements make them perfect for this format. The black-and-white illustrations for each one are very different but fit each story well. In "The Werewolf of Fever Swamp," the artwork bristles much like the hackles on a werewolf's neck. The smooth, realistic style of "The Scarecrow Walks at Midnight" makes the scarecrow chilling and haunting. The bolder, cartoon style of "The Abominable Snowman of Pasadena" perfectly fits this more humorous tale. This is a great option for younger readers interested in graphic novels, and the nostalgia is there for the older set.-Melissa T. Jenvey, New York Public Library