Timequake (Paperback)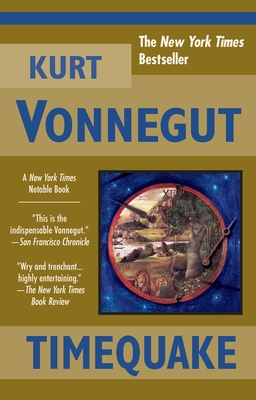 Description
---
There's been a timequake. And everyone—even you—must live the decade between February 17, 1991 and February 17, 2001 over again. The trick is that we all have to do exactly the same things as we did the first time—minute by minute, hour by hour, year by year, betting on the wrong horse again, marrying the wrong person again. Why? You'll have to ask the old science fiction writer, Kilgore Trout. This was all his idea.
About the Author
---
Kurt Vonnegut, one of the most acclaimed American writers of the past century, died in New York City on April 11, 2007. He was the New York Times bestselling author of fourteen novels, including such literary classics as Slaughterhouse-Five, Cat's Cradle and God Bless You, Mr. Rosewater. Penguin Group (USA) was fortunate to publish several of Mr. Vonnegut's books, including the novels Timequake and Hocus Pocus as well as a collection of short fiction, Bagombo Snuff Box.
Praise For…
---
"This is the indispensible Vonnegut."
—
San Francisco Chronicle
"Wry and trenchant . . . highly entertaining."
—The New York Times Book Review
"His funniest book since Breakfast of Champions . . . There are nuggets of Vonnegutian wisdom throughout."
—Newsweek
"Timequake is a novel by, and starring, Kurt Vonnegut . . . What Vonnegut does, which no one can do better, is give a big postmodern shrug . . . You've got to love him."
—The Washington Post Book World
"Humorous, sardonic . . . Timequake makes for irresistible reading that's loaded with more important truths than it lets on . . . Moralizing has never been funnier."
—Chicago Sun-Times
"Vonnegut is at his best."
—Atlanta Journal & Constitution