Welcome to Word After Word Books!
A Red Herring Without Mustard: A Flavia de Luce Novel (Paperback)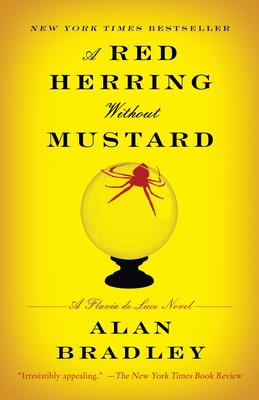 Other Books in Series
This is book number 3 in the Flavia de Luce series.
Description
---
NEW YORK TIMES BESTSELLER - Alan Bradley, author of the most award-winning series debut of any year, returns with another irresistible Flavia de Luce novel.
 
In the hamlet of Bishop's Lacey, the insidiously clever and unflappable eleven-year-old sleuth Flavia de Luce had asked a Gypsy woman to tell her fortune—never expecting to later stumble across the poor soul, bludgeoned almost to death in the wee hours in her own caravan. Was this an act of retribution by those convinced that the soothsayer abducted a local child years ago? Certainly Flavia understands the bliss of settling scores; revenge is a delightful pastime when one has two odious older sisters. But how could this crime be connected to the missing baby? As the red herrings pile up, Flavia must sort through clues fishy and foul to untangle dark deeds and dangerous secrets.
About the Author
---
Alan Bradley is the New York Times bestselling author of many short stories, children's stories, newspaper columns, and the memoir The Shoebox Bible. His first Flavia de Luce novel, The Sweetness at the Bottom of the Pie, received the Crime Writers' Association Debut Dagger Award, the Dilys Award, the Arthur Ellis Award, the Agatha Award, the Macavity Award, and the Barry Award, and was nominated for the Anthony Award. His other Flavia de Luce novels are The Weed That Strings the Hangman's Bag, A Red Herring Without Mustard, I Am Half-Sick of Shadows, Speaking from Among the Bones, The Dead in Their Vaulted Arches, As Chimney Sweepers Come to Dust, Thrice the Brinded Cat Hath Mew'd, and The Grave's a Fine and Private Place, as well as the ebook short story "The Curious Case of the Copper Corpse."
Praise For…
---
"Irresistibly appealing."—The New York Times Book Review

"This idiosyncratic young heroine continues to charm."—The Wall Street Journal
 
"Full of pithy dialogue and colorful characters, this series would appeal strongly to fans of Dorothy Sayers, Gladys Mitchell, and Leo Bruce as well as readers who like clever humor mixed in with their mysteries."—Library Journal (starred review)
 
"Think preteen Nancy Drew, only savvier . . . and you have Flavia de Luce."—Entertainment Weekly
 
"Outstanding . . . [a] marvelous blend of whimsy and mystery."—Publishers Weekly (starred review)
 
"Delightful . . . a treasure."—The Seattle Times