The Very Nice Box (Hardcover)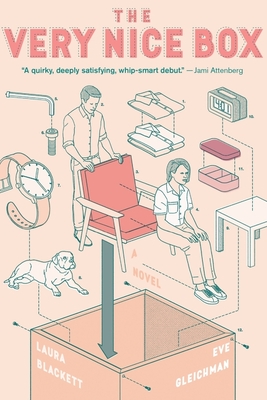 $25.00

OUT OF STOCK - Available to order
Description
---
"Laura Blackett and Eve Gleichman are linguistic magicians, and their sparkling debut manages to expose the hollowness of well-being jargon while exploring, with tender care and precision, how we dare to move on after unspeakable loss . . . [They have] constructed a mirrored fun house, one that leads us down different paths, each masterfully tied up at the end, yet reflecting and refracting our own quirky selves."
—New York Times Book Review, An Editors' Choice

"A very funny debut — and perhaps the most original office satire of the year."
—Washington Post

For fans of Elinor Oliphant Is Completely Fine and Severance: an offbeat, wryly funny debut novel that follows an eccentric product engineer who works for a hip furniture company where sweeping corporate change lands her under the purview of a startlingly charismatic boss who seems determined to get close to her at all costs . . .

Ava Simon designs storage boxes for STÄDA, a slick Brooklyn-based furniture company. She's hard-working, obsessive, and heartbroken from a tragedy that killed her girlfriend and upended her life. It's been years since she's let anyone in.

But when Ava's new boss—the young and magnetic Mat Putnam—offers Ava a ride home one afternoon, an unlikely relationship blossoms. Ava remembers how rewarding it can be to open up—and, despite her instincts, she becomes enamored. But Mat isn't who he claims to be, and the romance takes a sharp turn.

The Very Nice Box is a funny, suspenseful debut—with a shocking twist. It's at once a send-up of male entitlement and a big-hearted account of grief, friendship, and trust.
About the Author
---
EVE GLEICHMAN's short stories have appeared in the
 Kenyon Review,
the
Harvard Review,Bomb Daily,
and elsewhere. Eve is a graduate of Brooklyn College's Fiction MFA Program and lives in Brooklyn.
LAURA BLACKETT is a woodworker and writer based in Brooklyn.
Praise For…
---
A New York Times Editors' Choice  One of Apple Books' Best Books of July  A "Read Carolina" Book Club Pick  One of Shondaland's "Best Books of July"  One of Bustle's "Most Anticipated New Books of July 2021"  One of LitHub's "New Books to Keep Your Summer Reading Going Strong"  One of Alma's "Favorite Books for Summer 2021"  One of LGBTQ Reads' "Most Anticipated"  One of Beyond the Bookends' "Outstanding Reads"   —
"Rather than boxing in queerness, the authors suggest queerness as a lens for seeing, reading, and, arguably, for their own storytelling, which refuses trite or stereotypical generic moments. The story charms, it entices, and it keeps the reader in their hands, wanting more."  — Los Angeles Review of Books
"If you are looking for something compelling, quirky, and different, this novel is your July pick . . . In a darkly funny, thought-provoking,and twisty novel, readers will be entertained and root for Ava, and for a life where grief and hope can coexist."  — Shondaland, "The 5 Best Books of July"
"I loved this book. Original, unsettling, entertaining"  — Marian Keyes
"The Very Nice Box is highly readable, full of twists and irony—inspiring deep belly-laughs with every sentence."  — Vanessa Chan, BOMB  
"In this bitingly funny thriller, a heartbroken woman takes a chance on love and gets more than she bargained for . . . This debut novel by the writing duo Eve Gleichman and Laura Blackett takes on hipster corporate culture with biting wit while also balancing breezy romance and pulse-pounding suspense. The Very Nice Box will have you laughing and nodding along right up to the final shocking twist."  — Apple Books, Best Books of July  
"A dazzling and hilarious debut seeped in the ills of corporate culture and male entitlement . . . The Very Nice Box offers a little bit for everyone—blending rom-com, satire, and thriller . . . Witty and sharp."  — Catapult 
 "A quirky, deeply satisfying, whip-smart debut that critiques corporate culture and male entitlement while also offering a heartfelt look at how to work through grief. Meticulously constructed and truly original—I inhaled it."  — Jami Attenberg, author of All This Could Be Yours 
 "The Very Nice Box is a fascinating look at the ways people choose to compartmentalize grief. The writing is sharp and dynamic, the plot wonderfully compelling. It's a very fun read, but it's also a timely one: how does toxic masculinity in corporate culture restructure and rebrand itself in order to appear innocuous? The Very Nice Box is a very nice book, and Blackett and Gleichman have created something stellar here."  — Kristen Arnett, author of With Teeth
 "This debut has everything I crave in a novel: emotional intelligence, humor both subtle and satirical, pathos galore, and sentences that you could bounce a quarter off. Eve Gleichman and Laura Blackett have managed to write a literary page-turner that is full of heart and scathing social critique, not to mention a surprise ending to rival those of my favorite mysteries. I absolutely devoured it."  — Melissa Febos, author of Girlhood  
"A satire of contemporary corporate culture. An exploration of how vulnerable we become in grief. A surprising romance. A cautionary tale. Somehow The Very Nice Box manages to be all of the above. Eve Gleichman and Laura Blackett have a wicked sense of humor and a keen view on our current moment. This is a delightful and propulsive read."  — Helen Phillips, author of The Need  
 "What kind of box is this book? Is it a giftbox, or a memory box, or a coffin? It's all of the above, a deftly packaged story that hinges on the way we organize our days, our work, and our love. I relished living in its perfect compartments. Gleichman and Blackett have engineered a narrative not only very nice, but exceptional."  — Hilary Leichter, author of Temporary 
 "This sharp page-turner is as well-constructed and pleasing as the titular Box, with a heroine whose affecting quirks lend heart and consequence to the headlong plot."   — Emily Gould, author of Perfect Tunes