Word After Word Books and Rock Cellar Records
are located in historic Downtown Truckee.
Agatha Raisin and the Day the Floods Came: An Agatha Raisin Mystery (Agatha Raisin Mysteries #12) (Paperback)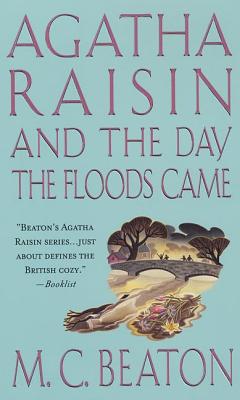 Other Books in Series
This is book number 12 in the Agatha Raisin Mysteries series.
Description
---
Agatha Raisin and the Day the Floods Came continues the tradition in M. C. Beaton's beloved Agatha Raisin mystery series—now a hit show on Acorn TV and public television.
Marital bliss was short-lived for Agatha Raisin. Her marriage to James Lacey was a disaster from the beginning, and in the end, he left her-not for another woman, but for God. After having been miraculously cured of a brain tumor, James has decided to join a monastery in France. Agatha can usually depend on her old friend, Sir Charles Fraith, to be there when times are tough, but even Charles has abandoned her, dashing off to Paris to marry a young French tart.
Miserable and alone, Agatha hops on a plane and heads for a remote island in the South Pacific. To Agatha's surprise, she makes friends with her fellow travelers easily, and keeps herself out of mischief, despite the odd feeling she gets from one particularly attractive honeymooning couple. But when she later finds that the pretty bride has drowned under suspicious circumstances, Agatha wishes she had found a way to intervene.
Returning home to the Cotswolds, Agatha is grimly determined to move on with her life and to forget about James and Charles. They have, after all, forgotten about her. And what better way than to throw herself into another murder investigation? A woman, dressed in a wedding gown and still clutching her bouquet, has just been found floating in a river. The police say it's suicide, but Agatha suspects the girl's flashy young fiancé. With the help of her handsome, and single, new neighbor, Agatha sets off to prove the police wrong.
About the Author
---
M. C. Beaton, who was the British guest of honor at Bouchercon 2006, has been hailed as the "Queen of Crime" (The Globe and Mail). In addition to her New York Times and USA Today bestselling Agatha Raisin novels, Beaton is the author of the Hamish Macbeth series and four Edwardian mysteries. Born in Scotland, she currently divides her time between the English Cotswolds and Paris.
Praise For…
---
"The Agatha Raisin stories are always well plotted but the real attraction is the quirky characters of Agatha, Sir Charles, and James—fans will be thrilled to catch up with the titanic trio."--RT Book Reviews "Beaton's Agatha Raisin series...just about defines the British cozy."--Booklist

"A true village mystery with a heroine so timely and real, you'll want to meet her at the pub."--St. Petersburg Times

"Funny, breezy, and very enjoyable."--Midwest Book Review

"[Agatha] is a glorious cross between Miss Marple, Auntie Mame, and Lucille Ball, with a tad of pit bull tossed in. She's wonderful."--St. Petersburg Times

"Anyone interested in a few hours' worth of intelligent, amusing reading will want to make the acquaintance of Mrs. Agatha Raisin."--Atlanta Journal Constitution

"Few things in life are more satisfying than to discover a brand new Agatha Raisin mystery."--Tampa Tribune Times

"Beaton has a winner in the irrepressible, romance-hungry Agatha."--Chicago Sun-Times

"The Miss Marple-like Raisin is a refreshingly sensible, wonderfully eccentric, thoroughly likable heroine¿a must for cozy fans."--Booklist

"Anyone interested in¿intelligent, amusing reading will want to make the acquaintance of Mrs. Agatha Raisin."--Atlanta Journal Constitution

"The Raisin series brings the cozy tradition back to life. God bless the Queen!"--Tulsa World

"[Beaton's] imperfect heroine is an absolute gem!"--Publishers Weekly