Word After Word Books and Rock Cellar Records
are located in historic Downtown Truckee.
Agatha Raisin and the Wizard of Evesham (Mass Market Paperback)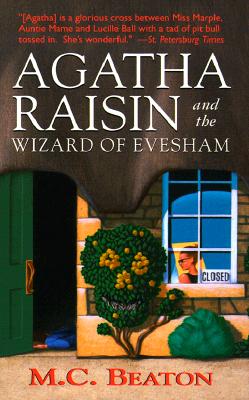 $7.99
Email or call for price.
Description
---
After a home dye job ruins her hair, Agatha Raisin, the prickly yet lovable amateur sleuth, turns to the wonderful new hairdresser in the neighboring town for help. And as Agatha soon learns, Mr. John is as skilled at repairing her coiffure as he is at romancing her heart. But the charming Mr. John isn't all he appears to be. According to gossip around the salon and the village, some of his former clients seem to be afraid of him. Could Mr. John really be a ruthless blackmailer? When a murderer strikes at the busy salon, Agatha must discover the truth and the killer's identity before it's too late.
About the Author
---
M. C. Beaton has been hailed as "the new Queen of Crime." She is "The New York Times" bestselling author of the Agatha Raisin mysteries, including "As the Pig Turns" and "Busy Body," set in the English Cotswolds, as well as the Hamish Macbeth mysteries set in Scotland. She has also written historical romance novels and an Edwardian mystery series under the name Marion Chesney. Before writing her first novels, Beaton worked as a bookseller, a newspaper reporter, a fashion critic, and a waitress in a greasy spoon. Born in Scotland, she currently divides her time between Paris and a village in the Cotswolds. She was selected the British Guest of Honor for the Bouchercon World Mystery Convention in 2006.
Praise For…
---
"M.C. Beaton, aka Marion Chesney, spins another tale of mystery and droll humor."--RT Book Reviews "While her neighbor and sometime love interest James Lacey gallivants on the continent, Agatha (Agatha Raisin and the Terrible Tourist, LJ 9/1/97) grows bored in the English village of Carsely. After witnessing the fearful reactions of several women to her choice of a talented and charismatic new hairdresser in nearby Evesham, she's ready to attach some nefarious plot to the man. With the help of friend Sir Charles, she begins nosing about, purposely leaving herself open to possible blackmail and economic exploitation. Her plans backfire when someone kills the hairdresser and torches his home. Another delightful cozy featuring Cotswolds surroundings, a bit of history, and buoyant characters, this will fit well in any collection."--Library Journal "Agatha Raisin is her same unlovable, yet lovable self - snapping at everyone, nasty to most, and yet so willing to please....Agatha embodies the characteristics of many middle-aged women who feel that life is passing them by. There is no equivalent to Agatha, with her acid tongue, in all of the mystery world....Long live Agatha Raisin!"--The Mystery Reader "What makes readers love Agatha Raisin?...Somehow this cranky middle-aged dame's many flaws only make her more appealing."--Booklist "[Beaton's] imperfect heroine is an absolute gem!"--Publishers Weekly "All of the quaintness of Agatha Christie but with modern twists to keep you even more entertained.... M. C. Beaton weaves a tale that will delight Christie fans as well as lure in a whole new crowd to the cozy subgenre."--ReviewingtheEvidence.com