Word After Word Books and Rock Cellar Records
are located in historic Downtown Truckee.
As the Pig Turns: An Agatha Raisin Mystery (Hardcover)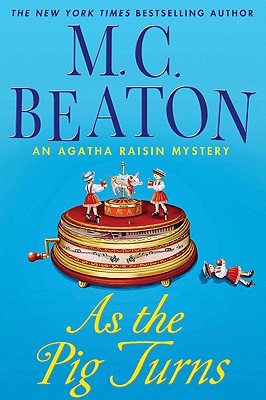 $24.99
Email or call for price.
Description
---
An irresistible new adventure for the bossy, vain, and endearing Agatha Raisin, from New York Times bestselling M.C. Beaton, "the reigning queen of the cozies" (Booklist).


Winter Parva is a "picturesque" (touristy) Cotswold village with gift shops, a medieval market hall, and thatched cottages. After a disappointing Christmas season, the parish council has decided to hold a special event in January, complete with old-fashioned costumes, morris dancing, and a pig roast on the village green. 
Always one for a good roasting, Agatha Raisin organizes an outing to enjoy the merriment. The rotary spit turning over a bed of blazing charcoals is sure to please on this foggy and blistery evening. But as the fog lifts slightly, the sharp-eyed Agatha notices something peculiar about the pig: a tattoo of a heart with an arrow through it and the name Amy.
"Stop!" she screams suddenly. "Pigs don't have tattoos."
The "pig," in fact, is Gary Beech, a policeman not exactly beloved by the locals, including Agatha herself. Although Agatha has every intention of leaving matters to the police, everything changes when the Gary's ex-wife, Amy, hires Agatha's detective agency to investigate—and another murder ensues. With that provocation, how could any sleuth as vain and competitive (and secretly insecure) as Agatha do anything other than solve the case herself?
About the Author
---
M.C. BEATON has been hailed as the "Queen of Crime" ("The Globe and Mail"). Chosen as the British guest of honor at Bouchercon 2006, she is the author of twenty-one previous Agatha Raisin novels, the Hamish Macbeth series, and an Edwardian mystery series published under the name Marion Chesney. Born in Scotland, she currently divides her time between Paris and the English Cotswolds.