Word After Word Books and Rock Cellar Records
are located in historic Downtown Truckee.
Agatha Raisin and the Love from Hell (Hardcover)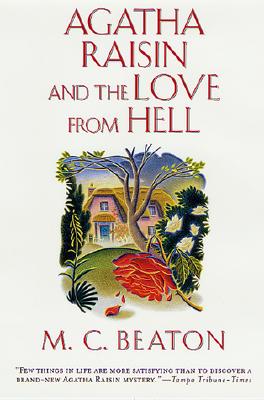 $22.95
Email or call for price.
Description
---
Recently married to James Lacey, the witty and fractious Agatha Raisin quickly finds that marriage, and love, are not all they are cracked up to be. Rather than basking in marital bliss, the newlyweds are living in separate cottages and accusing each other of infidelity. After a particularly raucous fight in the local pub, James suddenly vanishes-a bloodstain the only clue to his fate-and Agatha is the prime suspect.

Determined to clear her name and find her husband, Agatha begins her investigation. But her sleuthing is thwarted when James's suspected mistress, Melissa, is found murdered. Joined by her old friend Sir Charles, Agatha digs into Melissa's past and uncovers two ex-husbands, an angry sister, and dubious relations with bikers. Are Melissa's death and James's disappearance connected? Will Agatha reunite with her husband or will she find herself alone once again?
About the Author
---
M.C. Beaton is the Scottish-born author of the Agatha Raisin novels, the Hamish Macbeth series and "The Skeleton in the Closet." She lives in a village in the English Cotswolds.
Praise For…
---
"Anyone interested in a few hours' worth of intelligent, amusing reading will want to make the acquaintance of Mrs. Agatha Raisin."-Atlanta Journal Constitution

"[Agatha] is a glorious cross between Miss Marple, Auntie Mame, and Lucille Ball, with a tad of pit bull tossed in. She's wonderful." -St. Petersburg Times

"Among the many joys of all Agatha Raisin adventures are Beaton's sweetly formal prose and her vivid descriptions of colorful villagers. This one, however, adds a crackerjack plot and a delightfully comic ending to the mix, making it clearly the best of the lot." -Booklist (starred review) "AGATHA RAISIN AND THE LOVE FROM HELL is sheer fun. Beaton tells a sly story as she satirizes cozy English village life. The intrepid Agatha is in fine form as she proves no one can make a monkey out of her!"-RT Book Reviews