Firebirds: An Anthology of Original Fantasy and Science Fiction (Paperback)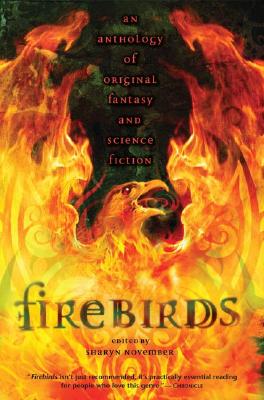 $9.99

OUT OF STOCK - Available To Order
Description
---
Firebirds is more than simply an anthology -- it is a celebration of wonderful writing. It gathers together sixteen original stories by some of today's finest writers of fantasy and science fiction. Together, they have won virtually every major prize -- from the National Book Award to the World Fantasy Award to the Newbery Medal -- and have made best-seller lists worldwide. These authors, including Lloyd Alexander (
The Chronicles of Prydain
), Diana Wynne Jones (
The Merlin Conspiracy
), Garth Nix (
The Abhorsen Trilogy
), Patricia A. McKillip (
Ombria in Shadow
), Meredith Ann Pierce (
The Darkangel Trilogy
), and Nancy Farmer (
The House of the Scorpion
), each with his or her own inimitable style, tell stories that will entertain, provoke, startle, amuse, and resonate long after the last page has been turned.
The writers featured in Firebirds all share a connection to Firebird Books, an imprint that is dedicated to publishing the best fantasy and science fiction for teenage and adult readers.
About the Author
---
Few writers have inspired as much affection and interest among readers young and old as
Lloyd Alexander
, and few writers have won so many literary honors. Most of his books have been written in the form of fantasy. But fantasy, Alexander believes, is merely one of many ways to express attitudes and feelings about real people, real human relationships and problems. "My concern is how we learn to be genuine human beings. I never have found out all I want to know about writing and realize I never will. All that writers can do is keep trying to say what is deepest in their hearts. If writers learn more from their books than do readers, perhaps I may have begun to learn."
Meredith Ann Pierce is one of America's premiere fantasy writers.  Along with her Darkangel books, the Firebringer Trilogy is among her best and most well-known work-but it has never been in paperback.  This classic saga of Jan, the warrior unicorn prince and his herd's only hope, is compelling reading for horse lovers, fantasy fans, and anyone who relishes a crackling good adventure.  Meredith Ann pierce lives in Micanopy, Florida.
Michael Cadnum
is the award-winning author of more than a dozen books for adults and young adults, including the contemporary novels
Rundown, Heat
, and
Edge
(all Viking) and the historical novel
In a Dark Wood
(Orchard/Puffin). Michael Cadnum lives in Albany, California.

Nancy Springer has published forty novels for adults, young adults and children. In a career beginning shortly after she graduated from Gettysburg College in 1970, Springer wrote for ten years in the imaginary realms of mythological fantasy, then ventured on contemporary fantasy, magical realism, and women's fiction before turning her attention to children's literature. Her novels and stories for middle-grade and young adults range from contemporary realism, mystery/crime, and fantasy to her critically acclaimed novels based on the Arthurian mythos, I AM MORDRED: A TALE OF CAMELOT and I AM MORGAN LE FAY. Springer's children's books have won her two Edgar Allan Poe awards, a Carolyn W. Field award, various Children's Choice honors and numerous ALA Best Book listings. Her most recent series include the Tales of Rowan Hood, featuring Robin Hood's daughter, and the Enola Holmes mysteries, starring the much younger sister of Sherlock Holmes.
Ms. Springer lives in East Berlin, Pennsylvania.
Patricia A. McKillip is a winner of the World Fantasy Award, and the author of many fantasy novels, including The Riddlemaster of Hed trilogy, Stepping from the Shadows, and The Cygnet and the Firebird. She lives in Oregon.
Over the past twenty-four years, Nina Kiriki Hoffman has sold novels, juvenile and media tie-in books, short story collections, and more than two hundred short stories. Her works have been finalists for the Nebula, World Fantasy, Mythopoeic, Sturgeon, and Endeavour awards. Her first novel, The Thread That Binds the Bones, won a Stoker Award. Nina's YA novel Spirits that Walk in Shadow and her science fiction novel Catalyst were published in 2006. Her fantasy novel Fall of Light will be published by Ace Books in May.