Welcome to Word After Word Books!
The Summer Escape: A Novel (The Sunrise Cove Series #6) (Paperback)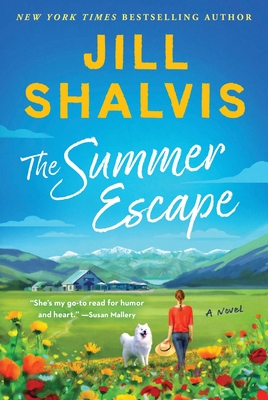 $18.99

Coming Soon - Pre-Order Now!
Other Books in Series
This is book number 6 in the The Sunrise Cove Series series.
Description
---
Secrets are revealed and forbidden sparks ignited in this sizzling Sunrise Cove tale of enemies to lovers, redemption, missing treasures, and love—by romance superstar and New York Times bestselling author Jill Shalvis.
Anna Moore didn't just wake up one day and decide to go on a wild quest—especially since her life no longer lends itself to wild anything—so how in the world does she end up racing against the clock with Owen Harris, a sexy, enigmatic adventurist, to prove her beloved dad innocent of stealing a million-dollar necklace? 
It's all Wendy's fault. Her older, bossy sister, who's seven months pregnant and on bed rest in their small Lake Tahoe hometown, is desperate to clear their departed dad's name. Owen, though, is convinced he's guilty as hell and wants to return the jewelry back to its rightful owner—his elderly great aunt. Together Anna and Owen go on a scavenger hunt for clues to the past (with Wendy remotely along for the ride via an earbud, supplying a running wry commentary to boot).  
On opposing sides and suspicious of each other as they are, Anna and Owen still can't deny the inexplicable and explosive chemistry between them on this heart-stopping adventure, the outcome of which will prove the necklace isn't the only thing stolen—their hearts have been as well.
About the Author
---
New York Times bestselling author Jill Shalvis lives in a small town in the Sierras full of quirky characters. Any resemblance to the quirky characters in her books is, um, mostly coincidental. Look for Jill's bestselling, award-winning novels wherever books are sold and visit her website, jillshalvis.com, for a complete book list and daily blog detailing her city-girl-living-in-the-mountains adventures.
Praise For…
---
"Jill Shalvis' books are funny, warm, charming and unforgettable." — RaeAnne Thayne, New York Times bestselling author
"This charming tale is just as welcoming as the cozy small-town community within which it's set, and Shalvis hits the perfect blend of sweet and spicy. Readers will be thrilled."  — Publishers Weekly on The Sweetheart List
"The slow reveal of secrets drives this novel of found family as the three, especially Alice, start to redefine the meaning of home. Full of quirky details that make the characters pop, this is classic Shalvis."   — Booklist on The Backup Plan
"Love for Beginners is quintessential Shalvis, with humor and heat (whew, Emma and Simon give us heat), and a cast of characters you'll hate to leave behind when you turn the last page. But even so, we promise you'll finish this book feeling warm from the inside—and maybe the outside too: this is the summer's perfect beach read." — New York Times bestselling author Christina Lauren
"Wonderfully engaging…one of her best." — Fresh Fiction on The Friendship Pact