Welcome to Word After Word Books!
The Paris Apartment: A Novel (Hardcover)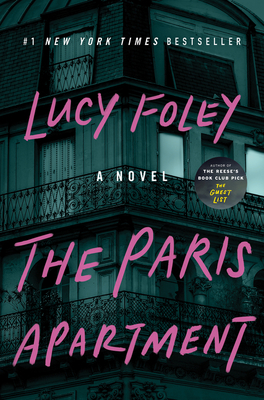 $28.99

OUT OF STOCK - Available to order
March 2022 Indie Next List
---
"This novel is a slow burn with a twist ending you can't see coming! The story layers perfectly as secrets rise to the surface, and Paris serves as a beautiful and mysterious backdrop."
— Addy Bowman, Wild Geese Bookshop, Franklin, IN
Description
---
THE #1 NEW YORK TIMES BESTSELLER
"Told in rotating points of view, this Tilt-A-Whirl of a novel brims with jangly tension – an undeniably engrossing guessing game."  — Vogue
"[A] clever, cliff-hanger-filled thriller." — People
From the New York Times bestselling author of The Guest List comes a new locked room mystery, set in a Paris apartment building in which every resident has something to hide… 
Jess needs a fresh start. She's broke and alone, and she's just left her job under less than ideal circumstances. Her half-brother Ben didn't sound thrilled when she asked if she could crash with him for a bit, but he didn't say no, and surely everything will look better from Paris. Only when she shows up – to find a very nice apartment, could Ben really have afforded this? – he's not there.
The longer Ben stays missing, the more Jess starts to dig into her brother's situation, and the more questions she has. Ben's neighbors are an eclectic bunch, and not particularly friendly. Jess may have come to Paris to escape her past, but it's starting to look like it's Ben's future that's in question.
The socialite – The nice guy – The alcoholic – The girl on the verge – The concierge
Everyone's a neighbor. Everyone's a suspect. And everyone knows something they're not telling.
About the Author
---
Lucy Foley studied English literature at Durham University and University College London and worked for several years as a fiction editor in the publishing industry. She is the author of five novels including The Paris Apartment and The Guest List. She lives in London.
Praise For…
---
"Told in rotating points of view, this Tilt-A-Whirl of a novel brims with jangly tension – an undeniably engrossing guessing game." — Vogue
"Another page-turning thriller in which the story and its characters are as unique and beguiling as the city itself. … [Foley] keeps readers on their toes with a fast-paced story in which she does a stellar job of juggling the past and the present with multiple narratives without getting bogged down. You can feel the urgency in her prose. … A thrilling read." — USA Today
"A transcontinental whodunnit with chic panache, this page-turner will keep you up into the wee hours of the night." — Good Morning America
"Extremely evocative, with a richly-drawn atmosphere you can cut with a knife. Short of a trip to Paris, the next best thing is surely to settle down with a bottle of French wine and devour The Paris Apartment...Stylish, suspenseful, claustrophobic and menacing." — Alex Michealides, #1 New York Times bestselling author of The Silent Patient
"With characters suspicious and unlikable in their own way and a fun twist, you're in for a dark and moody escape." — NPR.org
"Paris is always a good idea…until it isn't. … You can expect some plot twists and Agatha Christie-esque whodunit vibes." — The Skimm
"The streets of Paris have never looked darker, more opulent, or more sinister than in Lucy Foley's gloriously twisty new novel." — Ruth Ware
"Another clever, cliff-hanger-filled thriller from the author of The Guest List." — People
"The Paris Apartment is a charged, charming thriller that'll have us all eyeing the neighbors a bit skeptically, no matter where it is we live." — Town & Country
"As you patiently await season two of Only Murders in the Building, cozy up with Lucy Foley's latest whodunnit." — Parade
 "Another well-paced, suspenseful locked-room mystery with shifting points of view." — Library Journal
"Will keep you guessing until the very end. …This whodunnit will have you saying, 'Oh mon Dieu!'" — E! Online
"An enticing Parisian locked room mystery with enough twists and turns to keep even the most seasoned of thriller fans guessing." — Popsugar
"Super-twisty." — Cosmopolitan
"A modern-day Agatha Christie." — Entertainment Weekly
"A fast-paced, twisty bit of escapism that mixes compelling, messy characters, deft narrative red herrings, shifting perspectives, and a few genuine surprises to create a story that'll keep you up reading well into the night." — Paste Magazine
"Lucy Foley keeps you guessing with multiple first-person narrators and short chapters designed to leave you hanging." — Associated Press
"The Paris Apartment grabbed me from the get-go. … A little bit Emily in Paris meets Rear Window to me. It's totalement satisfying in the end." — Vulture
"If you binged Only Murders in the Building, then this book sounds like it may be right up your alley." — Buzzfeed
"Foley turns up the creep factor and expertly plays with our preconceptions to make this an involving follow-up to her 2020 best-seller, The Guest List." — Air Mail
"The Paris Apartment is cleverly and intricately plotted, told from several different points of view and occasionally moving forward and backward chronologically. This gives readers just enough clues to allow them to try to solve the mystery while continually pulling the rug out from under them so they remain off-balanced and surprised. The book takes a classic formula but makes it feel fresh and modern using contemporary storytelling techniques, ensuring that readers will come away from it eagerly awaiting Foley's next fiendishly clever puzzle of a mystery." — Bookreporter.com
"Another glamorous mystery with a sprawling, secretive cast—namely, the inhabitants of the titular apartment complex." — BookPage
"Will keep you guessing until the very end. It may be pure fiction, but fans of true crime novels will gobble it right up." — Reader's Digest
"But it's not only the intelligent and riveting storyline or the carefully conceived and fully developed characters that elevates this book far above mundane thrillers. Foley's precise prose rings with echoes of her British background and the elegance of her French setting. … With confidence and cunning, Foley provides pleasures that chill as they captivate." — Fredericksburg Free Lance-Star
"An atmospheric thriller wrapped in a mystery, lots of mysteries. … Her writing is spare, her plotting intricate, and she is stingy with clues along the way — as a good mystery/thriller writer should be. I recommend The Paris Apartment for fans of this genre who especially enjoy being in the dark for most of the book and quite surprised at the end." — Florida Times-Union
"Foley is the master of the slow reveal, and gives a little bit at a time to lead up to the big reveal. You never quite know what to expect, which makes the plot even more exciting. This well-written and entertaining read is perfect for fans of Ruth Ware, Agatha Christie, and Foley's previous books." — Mystery and Suspense Magazine
"Foley's writing is simple and immersive, marrying the elegance and dark undertones of Paris with a reckless but determined protagonist to create an intriguing mystery. The Paris Apartment is a sinister puzzle you'll love solving." — The Harvard Crimson
"A brilliantly twisty thriller that keeps the reader guessing right to the end." — Irish Times
"[Foley] is already the high priestess of the whodunnit, blending intrigue and plots wound tight as magnet coils, with healthy dashes of glamour." — Irish Independent
"Perfect for fans of Hulu's Only Murders in the Building." — Teen Vogue