Welcome to Word After Word Books!
My Grandmother Asked Me to Tell You She's Sorry \ (Spanish edition) (Paperback)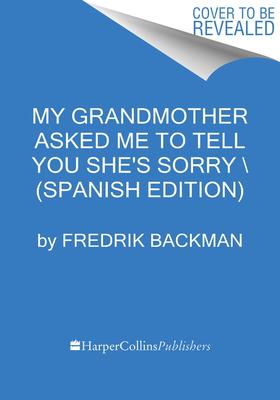 July 2015 Indie Next List
---
"The ability to write with both humor and sadness, to tell fairy tales without becoming sappy, to convey real love and grief - these are Backman's remarkable gifts. Elsa is seven years old and curious about everything, braver than most adults, often difficult, and acutely aware of being an outsider. Her eccentric grandmother loves her fiercely and is willing to do many unusual things to bring joy and magic to Elsa's life. When her grandmother passes away, Elsa discovers the roles played by the quirky inhabitants of her life and begins to find her way through her grief and to the discovery that being different may be the magic that saves them all."
— Luisa Smith (E), Book Passage, Corte Madera, CA
Description
---
Una deleitable y conmovedora novela del autor del bestseller internacional Un hombre llamado Ove.
Elsa tiene siete años y es diferente. Su abuela tiene 77 y está loca, loca del tipo que, de pie, desde su balcón, dispara una pistola de bolas de pintura a los hombres que quieren hablar de Jesús. También es la mejor y única amiga de Elsa. Por la noche, Elsa se refugia en las historias de su abuela, en Land-of-Almost-Awake y en Kingdom of Miamas, donde todos son diferentes y nadie necesita ser normal. Cuando la abuela de Elsa muere y deja una serie de cartas pidiendo disculpas a las personas a las que ha perjudicado, comienza la mayor aventura de Elsa. Las instrucciones de su abuela la llevan a un edificio de apartamentos lleno de borrachos, monstruos, perros de ataque y viejas brujas ordinarias, pero también a la verdad sobre los cuentos de hadas y los reinos y una abuela como ninguna otra. 
Mi abuela me pidió que te dijera que lo siente se cuenta con la misma precisión cómica y corazón palpitante que la novela debut de Fredrik Backman, Un hombre llamado Ove. Es una historia sobre la vida y la muerte y una oda a uno de los derechos humanos más importantes: el derecho a ser diferente.
A charming and warmhearted novel by the author of the international best-seller A Man Called Ove.
Elsa is seven years old and different. Her grandmother is 77 years old and crazy, standing-on-the-balcony-firing-paintball-guns-at-men-who-want-to-talk-about-Jesus crazy. She is also Elsa's best and only friend. At night Elsa takes refuge in her grandmother's stories, in the Land of Almost-Awake and the Kingdom of Miamas, where everybody is different and nobody needs to be normal. When Elsa's grandmother dies and leaves behind a series of letters apologizing to people she has wronged, Elsa's greatest adventure begins. Her grandmother's letters lead her to an apartment building full of drunks, monsters, attack dogs, and totally ordinary old crones but also to the truth about fairy tales and kingdoms and a grandmother like no other.
My Grandmother Asked Me to Tell You She's Sorry is told with the same comic accuracy and beating heart as Fredrik Backman's internationally best-selling debut novel, A Man Called Ove. It is a story about life and death and an ode to one of the most important human rights: the right to be different.
About the Author
---
Fredrik Backman, a blogger and columnist. He is the New York Times bestselling author of A Man Called Ove and My Grandmother Asked Me To Tell You She's Sorry. Both were number one bestsellers in his native Sweden and around the world, and are being published in more than thirty five territories. He lives in Stockholm with his wife and two children.