Welcome to Word After Word Books!
From the Desk of Zoe Washington (Paperback)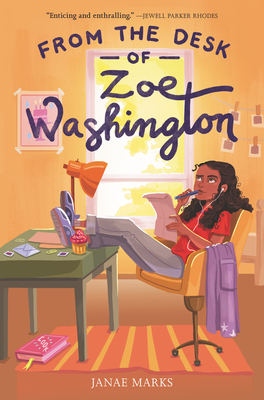 Winter 2019 Kids Indie Next List
---
"Zoe Washington is my new favorite middle-grade heroine! When she receives a letter from Marcus, her birth father, on her 12th birthday, Zoe begins corresponding with him in secret. Marcus is in prison for a crime he says he didn't commit, and Zoe is determined to find out the truth while also trying to excel in her baking internship and manage middle-school friendship drama with her neighbor Trevor. In her excellent debut novel, Marks skillfully balances a difficult social justice theme with lighthearted elements and lovingly rendered familial relationships."
— Anna Millsaps, bbgb books, Richmond, VA
Description
---
#1 Kids Indie Next List * Parents Magazine Best Book of the Year * Chicago Public Library Best of the Best Book of the Year * SLJ Best Book of the Year * Kirkus Best Book of the Year * Junior Library Guild Selection * Edgar Award Nominee * Four Starred Reviews * Bank Street Best Children's Book of the Year * An Indie Bestseller *
From debut author Janae Marks comes a captivating story full of heart, as one courageous girl questions assumptions, searches for the truth, and does what she believes is right—even in the face of great opposition. 
Zoe Washington isn't sure what to write. What does a girl say to the father she's never met, hadn't heard from until his letter arrived on her twelfth birthday, and who's been in prison for a terrible crime?
A crime he says he never committed.
Could Marcus really be innocent? Zoe is determined to uncover the truth. Even if it means hiding his letters and her investigation from the rest of her family. Everyone else thinks Zoe's worrying about doing a good job at her bakery internship and proving to her parents that she's worthy of auditioning for Food Network's Kids Bake Challenge.
But with bakery confections on one part of her mind, and Marcus's conviction weighing heavily on the other, this is one recipe Zoe doesn't know how to balance. The only thing she knows to be true: Everyone lies.
"When Marcus tells Zoe he is innocent, and her grandmother agrees, Zoe begins to learn about inequality in the criminal justice system, and she sets out to find the alibi witness who can prove his innocence." (Publishers Weekly, "An Anti-Racist Children's and YA Reading List")
Plus don't miss Janae Marks's A Soft Place to Land!
About the Author
---
Janae Marks is the author of the critically acclaimed novel From the Desk of Zoe Washington, the New York Times bestselling On Air with Zoe Washington, and A Soft Place to Land. She grew up in the New York City suburbs and now lives in Connecticut with her husband and daughter. She has an MFA in writing for children from the New School. Visit Janae online at janaemarks.com.
Praise For…
---
"This powerful debut packs both depth and sweetness, tackling a tough topic in a sensitive, compelling way. An extraordinary, timely, must-read debut about love, family, friendship, and justice." — Kirkus Reviews (starred review)
"This exceptionally sweet debut from Marks illustrates profound cracks in the American criminal justice system while telling an affecting story grounded in the middle-grade experience. The troubling ways race affects the characters…will facilitate important conversations about racial profiling and incarceration rates for people of color. Fortunately, Marks' capable storytelling and engaging characters also combine into a wondrous confection of a book, full of heart and hope and promise."  — Booklist (starred review)
"Debut author Marks seamlessly weaves timely discussions about institutionalized racism into this uplifting and engaging story that packs an emotional punch." — Publishers Weekly (starred review)
"A smart, necessary, and hopeful middle grade debut that expertly balances a gentle, heartwarming tone with searing insight into systemic racism." — School Library Journal (starred review)
"Marks delivers a spirited central character whose determination to get to the truth is admirable. An involving family story, this novel could also serve as an introduction to social justice for elementary schoolers." — Bulletin of the Center for Children's Books
"Never heavy-handed, Marks' prose is as sweet as one of Zoe's confections. And as the icing on the cake, From the Desk of Zoe Washington imparts important lessons about judging other people, whether by the color of their skin or by their presumed guilt or innocence." — BookPage
"Marks tackles the complex costs of the pursuit of justice and motivates readers to feel equipped—and energized—to stand up for what's right, right now. Readers will recognize that, like Zoe Washington, they need not wait until they grow up to make their actions count." — Tanita S. Davis, author of Mare's War
"A delightful confection of a novel! Zoe is a wondrous heroine who inspires a deeper love for food, family, and friends. Advocating for social justice, she creates a new recipe for a better, sweeter world. An enticing and enthralling debut from Janae Marks." — Jewell Parker Rhodes, New York Times bestselling author of Ghost Boys
"A touching, tender, and absorbing read!" — Jodi Kendall, author of The Unlikely Story of a Pig in the City
"With a dash of mystery, sprinkle of passion, and whole lot of heart, From the Desk of Zoe Washington has found a winning recipe." — Coe Booth, author of Kinda Like Brothers
"[A] marvelous debut novel by Janae Marks for middle-grade readers... a compelling mystery... Marks has managed to write a middle-grade novel that explores racial justice issues and addresses the routine bias Zoe faces while also dealing with coming-of-age issues... The book serves as a valuable introduction to The Innocence Project for its target audience." — Buffalo News