Welcome to Word After Word Books!
Sphere: A Novel (Paperback)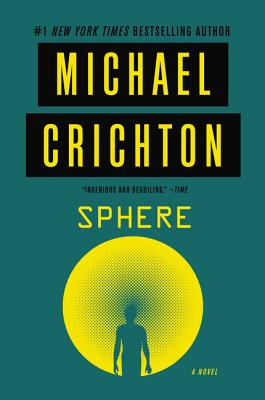 $16.99
Email or call for price.
Description
---
Now available in trade paperback, New York Times bestselling author Michael Crichton's classic science fiction thriller.
In the middle of the South Pacific, a thousand feet below the surface of the water, a huge vessel is discovered resting on the ocean floor. It is a spaceship of phenomenal dimensions, apparently undamaged by its fall from the sky. And, most startling, it appears to be at least three hundred years old. But even more fantastic—and frightening—is what waits inside…
About the Author
---
Michael Crichton (1942-2008) was the author of the bestselling novels The Terminal Man, The Great Train Robbery, Jurassic Park, Sphere, Disclosure, Prey, State of Fear, Next and Dragon Teeth, among many others. His books have sold more than 200 million copies worldwide, have been translated into forty languages, and have provided the basis for fifteen feature films. He wrote and directed Westworld, The Great Train Robbery, Runaway, Looker, Coma and created the hit television series ER. Crichton remains the only writer to have a number one book, movie, and TV show in the same year.
Daniel H. Wilson is a Cherokee citizen and author of the New York Times bestselling Robopocalypse and its sequel Robogenesis, as well as ten other books. He recently wrote the Earth 2: Society comic book series for DC Comics. Wilson earned a PhD in Robotics from Carnegie Mellon University, as well as master's degrees in Artificial Intelligence and Robotics. He has published over a dozen scientific papers and holds four patents. Wilson lives in Portland, Oregon.
Praise For…
---
Praise for PREY: "Crichton's books [are]…hugely entertaining." — New York Times Book Review
"Crichton writes superbly…the excitement rises with each page." — Chicago Tribune
Praise for STATE OF FEAR: "One of our most gifted popular novelists... Crichton's fecund imagination and considerable storytelling talent have brought pleasure to millions. A master." — Los Angeles Times