Tiger Shrimp Tango (Serge Storms #18) (Large Print / Paperback)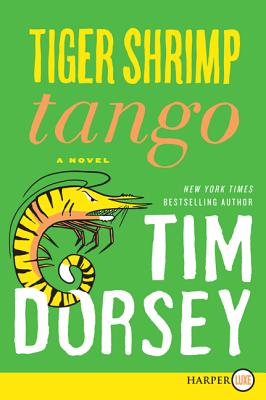 $27.99

OUT OF STOCK - Available to order
Other Books in Series
This is book number 18 in the Serge Storms series.
Description
---
Determined to save a damsel in distress, the Sunshine State's favorite serial killer and encyclopedia of Florida lore Serge Storms dances a tango of death and mayhem in this funny and dementedly entertaining crime caper from Tim Dorsey, author of the New York Times bestseller The Riptide, Ultra-Glide.
Thanks to the Internet, America has become a playground for ruthless scam artists out to make an easy buck. And where do these models of entrepreneurship hail from? Why, the Sunshine State of course!
No one loves Florida more, or can keep it safe from invasive criminal species better than self-appointed Sunshine Sheriff Serge Storms. When a particular scam leads to the death of a few innocents and a young woman's disappearance, Serge and his perpetually self-bent sidekick Coleman—aided by his new pal, latter-day noir private eye Mahoney—load up the car for a riotous road trip to do right. Packed with seafood, mayhem, blood, Coleman's deep thoughts, Floridian lore, and more, Tiger Shrimp Tango is a hilarious treat from the incomparable Tim Dorsey.
About the Author
---
Tim Dorsey was a reporter and editor for the Tampa Tribune from 1987 to 1999, and is the author of twenty-four novels: Tropic of Stupid, Naked Came the Florida Man, No Sunscreen for the Dead, Pope of Palm Beach, Clownfish Blues, Coconut Cowboy, Shark Skin Suite, Tiger Shrimp Tango, The Riptide Ultra-Glide, When Elves Attack, Pineapple Grenade, Electric Barracuda, Gator A-Go-Go, Nuclear Jellyfish, Atomic Lobster, Hurricane Punch, The Big Bamboo, Torpedo Juice, Cadillac Beach, The Stingray Shuffle, Triggerfish Twist, Orange Crush, Hammerhead Ranch Motel, and Florida Roadkill. He lives in Florida.
Praise For…
---
"One would have to be unbalanced to write this book, afflicted to read it, and delusional to understand it. Naturally, I loved almost every word of it." — Bookreporter.com
"Tim Dorsey balances the right blend of crime, mystery, humor and zaniness to a very special and engaging effect." — ReviewingTheEvidence.com
"Another quirky plot that will make you laugh out loud... All of Tim Dorsey's books have been a delight, but I think this one is at the head of the pack." — BookLoons.com
"Wild; lovingly violent; and very, very clever." — MyrtleBeachOnline.com
A fun book to read. The workings of Serge's mind is a wondrous thing. — The Oklahoman