Welcome to Word After Word Books!
When Elves Attack: A Joyous Christmas Greeting from the Criminal Nutbars of the Sunshine State (Serge Storms #14) (Paperback)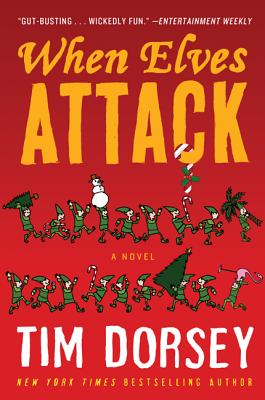 $16.99

OUT OF STOCK - Available to order
Other Books in Series
This is book number 14 in the Serge Storms series.
Description
---
"The undisputed king of the comic crime novel."
—Providence Journal
Nobody does Florida weirdness quite like Tim Dorsey! Case in point: When Elves Attack, the New York Times bestselling author's twisted Christmas present to his legion of adoring fans who can't get enough of thrill-killer and Sunshine State historian Serge A. Storms, the most endearing psychopath since Dexter. Dorsey offers the perfect antidote for all those sappy feel-good holiday stories with this zany blockbuster extravaganza in which his wonderfully deranged serial killer Floridaphile delivers his special brand of Christmas cheer. More outrageous than Santa Claus in a Speedo, When Elves Attack serves up a Yuletide feast of the "pure gonzo humor" the New York Times Book Review enthusiastically attributes to this fearlessly funny writer. Think Bad Santa and National Lampoon's Family Vacation, blend in Dorsey's trademark appetite for destruction, and you've got hilarious crime fiction black comedy that anyone would be thrilled to discover stuffed in their Christmas stocking.

About the Author
---
Tim Dorsey was a reporter and editor for the Tampa Tribune from 1987 to 1999, and is the author of twenty-five other novels: Mermaid Confidential, Tropic of Stupid, Naked Came the Florida Man, No Sunscreen for the Dead, Pope of Palm Beach, Clownfish Blues, Coconut Cowboy, Shark Skin Suite, Tiger Shrimp Tango, The Riptide Ultra-Glide, When Elves Attack, Pineapple Grenade, Electric Barracuda, Gator A-Go-Go, Nuclear Jellyfish, Atomic Lobster, Hurricane Punch, The Big Bamboo, Torpedo Juice, Cadillac Beach, The Stingray Shuffle, Triggerfish Twist, Orange Crush, Hammerhead Ranch Motel, and Florida Roadkill. He lives in Florida.
Praise For…
---
"Fans of Dorsey's slapstick-comedy style will find plenty to like. Dorsey again proves he's some sort of mad master with a concoction that features zany physical comedy, dark humor, social commentary, and Florida history." — Tampa Tribune
"The cover of Dorsey's book boasts, "A JOYOUS CHRISTMAS GREETING FROM THE CRIMINAL NUTBARS OF THE SUNSHINE STATE" and I must say…it's all that and so much more. … Hilarious...Dorsey will hold you captive until the last word is read!" — Suspense Magazine
"Fun to read. …Sick and twisted, but delightfully so. Serge is one hard core Santa figure…memorable." — Gainesville Times
"A satisfyingly large punch of classic Dorsey craziness. …Serge's paradoxical personality is at its most charming." — Publishers Weekly
"Dorsey weaves in the overt insanity of our holiday season with his own special brand to give us a special little tome. [When Elves Attack] will win Dorsey new fans." — Florida Times-Union
"The perfect antidote for all those sappy feel-good holiday novellas" — GoodReads
"Mayhem-filled" — Kirkus Reviews
"Dorsey serves up some zany holiday. …Full of suspense and more than a few chuckles." — Patriot Ledger
"Dorsey, following Carl Hiaasen's star, spin[s] goofball yarns about Florida's inherent craziness." — Star News Online
"Hilarious" — Tulsa World
"With a gleefully iconoclastic streak of holiday pandemonium, Dorsey ramps up the usual Serge-and-Coleman mayhem by several notches. You're in for a heck of a sleigh ride here." — EagleTribune.com
"Plenty of mayhem, sex and, yes, death. " — Las Vegas Review-Journal
"Hilarious. ... Dorsey never seems to run out of new and unique ways for his deranged creation to dry up the gene pools of the rude and the inconsiderate. His research of Florida's history and penchant for sprinkling arcane trivia throughout his books make each and every one a keeper." — Bookreporter.com
"You Gotta Read This…best laughs." — Macon County Herald