Kisses from Hell (Paperback)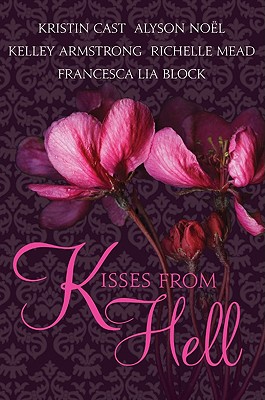 Description
---
Truly, Madly, Undead-ly
This irresistible collection features stories of love amid vampires by five of today's hottest authors—Kristin Cast (Tempted), Richelle Mead (Vampire Academy), Alyson Noël (Evermore), Kelley Armstrong (The Summoning), and Francesca Lia Block (Pretty Dead).
From a fugitive vampire forced to trust a boy who might work for the group bent on destroying her to the legendary romance of two immortals whose love compels them to risk everything, this heart-pounding collection brings new meaning to the words "love you forever." Whether you're into romances that are dark and moody or light and fun, these stories will quench that insatiable thirst for enchanting tales of the beautiful undead.
About the Author
---
Kristin Cast is a New York Times and USA Today bestselling author who teams with her mother to write the House of Night YA series. She has stand-alone stories in several anthologies as well as editorial credits. Currently Kristin attends college in Oklahoma, where she is focusing on attaining her dream of opening a no-kill dog rescue shelter in midtown Tulsa.
Richelle Mead lives in Seattle and is the author of the Vampire Academy series. When not writing, she can be found watching bad movies, inventing recipes, and buying far too many dresses.
When librarians finally granted Kelley Armstrong an adult card, she made straight for the epic fantasy and horror shelves. She spent the rest of her childhood and teen years happily roaming fantastical and terrible worlds, and vowed that someday she'd write a story combining swords, sorcery, and the ravenous undead. That story began with the New York Times bestselling Sea of Shadows and continues with Empire of Night.
Armstrong's first works for teens were the New York Times bestselling Darkest Powers and Darkness Rising trilogies. She lives in rural Ontario with her husband, three children, and far too many pets.
Alyson Noël is the #1 New York Times bestselling author of twenty-three novels, including the Immortals, Riley Bloom, and Soul Seekers series. With millions of copies in print, her books have been translated into thirty-six languages and have made numerous international bestseller lists.
Born and raised in Orange County, California, she's lived in both Mykonos and Manhattan and is now settled back in Southern California, where she's working on her next book. You can visit her online at www.alysonnoel.com.
Francesca Lia Block, winner of the prestigious Margaret A. Edwards Award, is the author of many acclaimed and bestselling books, including Weetzie Bat; the book collections Dangerous Angels: The Weetzie Bat Books and Roses and Bones: Myths, Tales, and Secrets; the illustrated novella House of Dolls; the vampire romance novel Pretty Dead; and the gothic werewolf novel The Frenzy. Her work is published around the world.