The Cactus Eaters: How I Lost My Mind—and Almost Found Myself—on the Pacific Crest Trail (Paperback)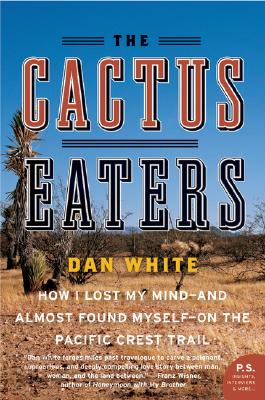 Description
---
"In the well-written, laugh-out-loud, self-deprecating spirit of Bill Bryson's A Walk In the Woods and Nora Ephron's When Harry Met Sally, Dan White takes us along for a walk on the wild side of adventure and love. I couldn't put it down." —Eric Blehm, National Outdoor Book Award-winning author of The Last Season
When Dan White and his girlfriend Melissa set out to hike the Pacific Crest Trail, which stretches from Mexico to Canada through boiling desert and snowcapped mountain passes, his parents wondered how two people who had never shared an apartment could survive in a tent in the desert. But when Dan and Melissa, dubbed "The Lois and Clark Expedition" by a fellow hiker, quit their doldrum jobs to set out into the wilderness, the hardships of the trail provided these addled adventurers with a crystalline view of the American wilderness, themselves, and each other.
In his wickedly funny memoir, Dan White also shares the story of Warren Rogers, who risked ruin to chart the trail during the Great Depression. As he walks in Rogers' footsteps, he starts to wonder if he's assumed the man's bravery—or his insanity.
Both hilarious and harrowing, this account of a young couple's hike along the 2,650-mile Pacific Crest Trail is a testament to the power of nature to change us and the power of love to get us through the uphill climbs.
About the Author
---
Dan White is a journalist and author whose work has appeared in the New York Times, the Los Angeles Times, and Backpacker magazine. He received his MFA from Columbia University, and he lives in the San Francisco Bay Area.
Praise For…
---
"It is a funny, frequently harrowing, and altogether mesmerizing memoir about just how wrong a backpacking expedition can go….'The Cactus Eaters' is far more than a Sierra Club-approved romp. It's gorp for the soul, a fascinating and surprisingly moving testament to the call of the wild."
— Steve Almond, Boston Globe

"Drawing on diaries he kept at the time, White polishes up these memories, serving them forth with brio and dash…[The Cactus Eaters] brings a fresh perspective to the timeworn adventure-travel genre."
— Kirkus Reviews

"In the well-written, laugh-out-loud, self-deprecating spirit of Bill Bryson's A Walk In The Woods and Nora Ephron's When Harry Met Sally, Dan White takes us along for a walk on the wild side of adventure and love. I could not put it down."
— Eric Blehm, National Outdoor Book Award-winning author of THE LAST SEASON.

"Dan White forges miles past travelogue to carve a poignant, uproarious, and deeply compelling love story between man, woman, and the land between. The Cactus Eaters is as impressive and enjoyable as the ground it covers."
— Franz Wisner, NY Times Bestselling Author of Honeymoon with My Brother