Cadillac Beach (Hardcover)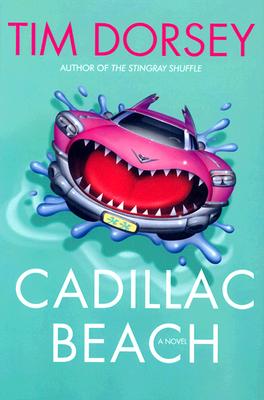 Description
---
Everyone out of the water
Serge A. Storms is back The one-man crime spree hits no speed bumps as he swings through Tampa, Disney World, and parts south before settling down in Miami Beach to team up with a former sidekick and launch his long-overdue offbeat travel service.
It's a labor of love as Serge forces customers to confront the underbelly of the Sunshine State's past and present. Some clients get it; others run for their lives. No matter. Bullets fly, cars crash, bodies pile up, fireballs reach into the sky, local lore is recited. The tour continues.
But wait There's more
Our overachieving antihero has a full to-do list, and he multitasks during the tourist juggernaut to battle the Palermo crime family, mystery assassins, local police, the FBI, the CIA, Fidel Castro, and telemarketers.
Whew That's plenty . . . No, it's not Serge is also out to solve a forty-year-old mystery involving the infamous "Murph the Surf" gem heist. Could this be what got his grand-father killed? So we jump into the time machine to meet his eccentric granddad, Sergio, who is running a small-time bookie operation in 1964 Miami Beach, a golden time and place popu-lated by the Beatles, Cassius Clay, James Bond, Jackie Gleason, and Flipper. . . .
Back to live action Serge and his customers have become the hunted, hopscotching through a series of famous hotel rooms. But Serge tells them not to worry. He has a master plan, which is about to unfold in all of its insane glory . . . on Cadillac Beach.