My Friend Flicka (Paperback)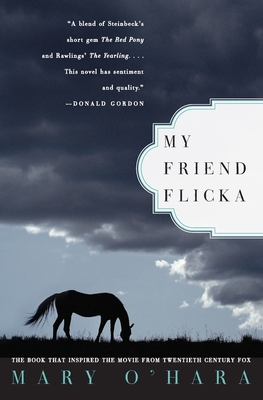 $14.99
IN STOCK - On Our Shelves Now!
Description
---
A timeless favorite of adults and children alike, this resides in "that borderland where some of the best-loved books in the English tongue hold their immortality."—New York Herald Tribune
Set on the Goose Bar Ranch in Wyoming—with its dramatic landscapes, its wild beauty, and its overwhelming spaciousness—this is the simple, moving story of Ken McLaughlin, and his chesnut filly, Flicka.
Ken, a daydreamer and chronic time-waster is an enigma to his brusque, practical father. And although his mother is filled with sympathy for the boy, she is powerless to bring father and son closer together. Ken's fierce devotion to Flicka will at one point nearly cost him his life. But it is this same devotion that eventually causes the boy to assume the responsibilities of growing up, and he finally wins his father's acceptance.
About the Author
---
Mary O'Hara was born on July 10, 1885, in Cape May Point, New Jersey. She was a screenwriter during the silent film era and wrote several novels, including the range country trilogy My Friend Flicka, Thunderhead, and Green Grass of Wyoming. She also authored a novella, The Catch Colt, and Wyoming Summer, based on her diary of sixteen years. She died on October 14, 1980.