Orange Crush: A Novel (Serge Storms) (Hardcover)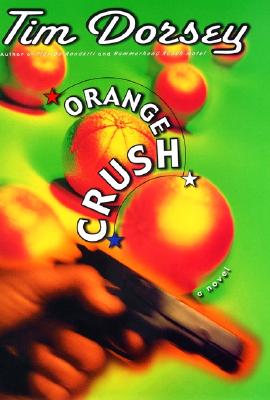 $25.00
Email or call for price.
Description
---
In his two previous novels, Florida Roadkill and Hammerhead Ranch Motel, Tim Dorsey rode a thousand mph whirlwind of outrageous, violent-funny crime through the Sunshine State and delighted readers and critics everywhere. Now he gives us a darkly hilarious, megatwisted view of politics in the land of the hanging chad.
The race is on for the governorship of Florida -- a bare-knuckled fistfight between pro-capital punishment House Speaker Gomer Tatum and Marlon Conrad, the present occupant of the governor's mansion. The Republicans' "golden boy" -- handsome, unthreatening, engaged to the talented ventriloquist, Miss Tallahassee 2001...and a loyal, unquestioning tool of the powerful special interests -- Marlon seems a virtual shoo-in for reelection. That is, until he undergoes a radical personality shift during a bloody military action in the Balkans.
There's nothing like staring death in the face for messing with a person's priorities. Now it's just three weeks before the election and Marlon is suddenly talking about "issues" and "reform" as he crosses the length and breadth of his home state with an amnesiac speechwriter and a chief of staff who turns catatonic in the presence of minorities. The governor's newfound conscience might well cost him the election, though. And it appears that pretty much everybody is trying to kill him.
But the incumbent isn't the only one sitting in somebody's rifle sights these days. A murderer affectionately dubbed "the Bumper Sticker Killer" -- for the pithy slogans found Magic-Markered on the victims' bodies -- is leaving a trail of very deserving corpses from the Panhandle to Biscayne Bay. Nothing, however, is going to derail democracy in this glorious state -- not even coast-to-coast serial slaughter, kamikaze journalistic shenanigans, the numbingly ordinary prognostications of the real Joe Blow, or mayhem at the Million Parrot Head March. And when reemergent Florida folklorist and spree killer Serge A. Storms is thrown into the mix, things really start to get interesting.... With a warped and manic fury that makes Hiaasen seem serious and Hunter Thompson staid, Tim Dorsey does it again -- rocketing Florida crime fiction forward by colliding death with the political process as madness takes the wheel of the Orange Crush
About the Author
---
Tim Dorsey was a reporter and editor for the Tampa Tribune from 1987 to 1999, and is the author of twenty-three novels: Naked Came the Florida Man, No Sunscreen for the Dead, Pope of Palm Beach, Clownfish Blues, Coconut Cowboy, Shark Skin Suite, Tiger Shrimp Tango, The Riptide Ultra-Glide, When Elves Attack, Pineapple Grenade, Electric Barracuda, Gator A-Go-Go, Nuclear Jellyfish, Atomic Lobster, Hurricane Punch, The Big Bamboo, Torpedo Juice, Cadillac Beach, The Stingray Shuffle, Triggerfish Twist, Orange Crush, Hammerhead Ranch Motel, and Florida Roadkill. He lives in Tampa, FL.